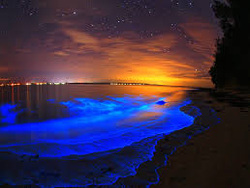 Bioluminescence Tours are back!

---
Ever witness a child seeing something beautiful and amazing for the first time? You can enjoy that same experience when you Stand up Paddleboard in Bioluminescence filled waters.
We set out on Tomales Bay to experience an amazing natural wonder. Seals and fish dart about in the water creating a magical green trail that slowly fades into the night. The stand up paddle board "point of view" allows you to see things that others in canoes or kayaks can't see. Your paddle turn into a paint brush as you are mesmerized by throwing "paint" on your board and around the water.
This experience belongs on your "bucket list" as it is something you will remember forever.
Call 415-497-0179 or e-mail me to reserve your magical experience.
A non refundable
deposit of 50% is required to reserve your spot.
We will be launching the boards out of
Nick's cove (Miller Park boat launch)
.
Trips available November 7-15th.Price is $70 per person. Tours start are 1.5 hours and start at sunset.
Wind over 8 mph cancels the trip.
Here is a link to check the wind nearby.What to bring: winter hats, layered jackets, and headlamps. Wetsuit and water booties are great to use if you have them, but are not required.